Report
A dynamic alternative
Get to know Grant Thornton
Read more
We are Grant Thornton
Grant Thornton is a leading business adviser that helps dynamic organizations to unlock their potential for growth. Our brand is respected globally, as one of the major global accounting organizations recognized by capital markets, regulators, and international standards-setting bodies.
Over the last three years, we are the fastest-growing large accounting organization and we are constantly evolving and developing alongside our clients'
Global scale and agility
As a $5bn global organisation of member firms with 53,000 people in over 130 countries, we have the scale to meet your changing needs, but with the insight and agility that helps you to stay one step ahead.
Privately owned, publicly listed and public sector clients come to us for our technical skills and industry capabilities but also for our different way of working. Our partners and teams invest the time to truly understand your business, giving real insight and a fresh perspective to keep you moving.
Whether a business has domestic or international aspirations, Grant Thornton can help you to unlock your potential for growth.
Grant Thornton in Kazakhstan
Grant Thornton is recognized to be one of the fastest growing brands in the professional services market, both worldwide and in Kazakhstan. The company operates since 2010. Grant Thornton is a leading accounting and consulting firm providing assurance, tax and advisory services to privately held businesses and public interest entities.
We have a team of highly qualified auditors, accountants and consultants with an extensive work experience in "Big Four", with in-deep knowledge and rich experience of serving clients in different industries, who are ready to help you unlock your potential for growth.
Partners and key personnel of our firm possess national and international certificates, such as US CPA, ACCA, CIA, CMA, professional accountant, certified auditor of the Republic of Kazakhstan and many others.
Grant Thornton is listed as a contributor at The World Bank's 2020 Doing Business research - https://www.doingbusiness.org/en/contributors/doing-business/kazakhstan
Accreditations of the company:
An audit organization that is included in the list of bona fide suppliers of NWF Samruk-Kazyna JSC;
Knowledge from the Training Center and officially recognized certificates required for professional accountants and auditors in Kazakhstan;
Permanent general sponsor of CFO Summit in Kazakhstan since 2014.
Company's accomplishments:
An audit audit organization that has the highest rating from the Chamber of Auditors of the Republic of Kazakhstan;
Tier 1 audit organization recognized by the Kazakhstan Stock Exchange and the Canadian Stock Exchange (TSX);
Grant Thornton audited 20% of companies listed on the Kazakhstan Stock Exchange in 2021
Our partners are members of:
-Advisory Body on accounting and auditing activities of the Ministry of Finance of the Republic of Kazakhstan;
-Working group on the development of amendments to the Tax Code under the Ministry of Finance of the Republic of Kazakhstan.
Awards
Grant Thornton is an award-winning globally recognised professional services network. Here are some of our awards.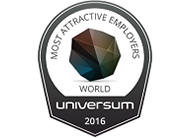 The World's Top 50 Most Attractive Employers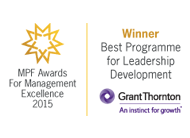 Best Programme for Leadership Development in 2015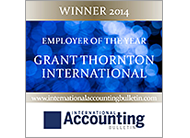 IAB Employer of the year 2014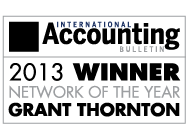 Global network of the year 2013